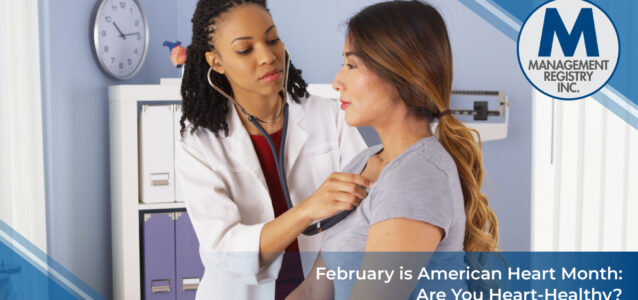 February is designated as American Heart Month to advocate cardiovascular health and raise awareness about heart disease.
According to the American Heart Association, heart disease is the leading cause of death in the U.S., accounting for about one in every four deaths. That's why since 1963, American Heart Month has focused attention on ways to promote and maintain heart health – helping to educate Americans on joining the battle against heart disease.
At Management Registry, we're firm believers in American Heart Month, and February is the perfect time to learn more about promoting good coronary health.
We've provided some tips on how to improve and maintain heart health no matter your age.
In your 20s 
Find a general practitioner and have yearly wellness check-ups.
Maintain a healthy weight by staying active and eating healthy foods. Establishing these routines now helps to sustain these habits as you age.
Watch the salt intake. Learn how to replace salt with herbs and spices. Processed foods are loaded with sodium, so read the packages and opt for fresh foods.
Don't smoke and avoid secondhand smoke.
Drink alcohol in moderation.
Practice good dental hygiene. Some research suggests that the bacteria that cause gum disease can also raise your risk of heart disease.
In your 30s
Plan your meals to include healthy options while encouraging your kids to establish heart-healthy habits.
Learn stress-management techniques. Stress can lead to higher blood pressure and heart rate, which can lead to heart disease.
Owning a pet may help improve your heart and lung function and may decrease your risk for heart disease.
Get enough quality sleep. People who don't get enough sleep have a higher risk of obesity, high blood pressure, heart attacks, diabetes and depression.
In your 40s
Your metabolism is slowing, so make sure you're maintaining a healthy body weight.
Have your doctor perform a blood glucose screening.
If you're snoring, you may have sleep apnea. Talk to your doctor to see if you need treatment. If untreated, sleep apnea can lead to high blood pressure, heart disease, and stroke.
In your 50s
Make sure your diet contains fresh fruit and vegetables, fiber-rich whole grains, fish, nuts, legumes and seeds. Try eating meatless meals to help keep a low cholesterol level.
Know the warning signs of a heart attack. Each year, around 750,000 Americans have a heart attack and about 15 percent of those people will die from it.
If you've been diagnosed with a medical condition related to heart disease, make sure you follow your treatment plan to lower your risk of heart disease.
In your 60s (and Beyond)
Research has shown that exercising regularly as we age can improve the elasticity of blood vessels and help stave off heart-related problems.
Think about ways to do more walking, whether it's a few blocks or a trek to the local farmer's market to find fresh produce.
To ensure healthy eating, consider preparing meals at home more often than eating out.
Contact Our Team at Management Registry Today
Looking for the right healthcare staffing solutions or looking for a new role in healthcare? Management Registry, Inc. is highly experienced in all areas of the staffing process. Our proven network and experience can help your organization find the perfect fit or find you the role you've been looking for. Contact us today and let's discuss on how we can help you meet your needs!