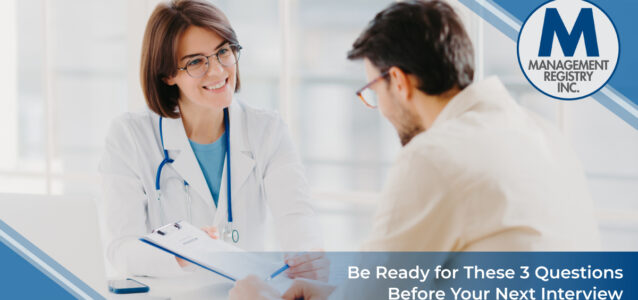 Whoever first said "you only have one chance to make a good impression" must have been someone preparing for a job interview.
Whether you're meeting with a hiring manager or recruiter in a video format or in person, being prepared is the key to success. If you think you can land a job in today's market by winging it, you're in for a shock.
It's important to make a positive and lasting impression and landing a job interview means being prepared to answer questions.
While you won't be able to predict every question you'll be asked by the hiring manager, take the time to think about your professional skills and background beforehand – then prepare how you'll answer their questions.  This will also help calm your nerves because you won't be scrambling for an answer and will feel confident and more professional.
The good news is many interview questions are more or less standard. But how you respond can make or break if you're successful or not.
Here are three frequently asked questions you can be sure will be asked:
1. Why Did You Leave (or are Leaving) Your Job?
It's never a good idea to badmouth a former employer. So if an interviewer asks why you left your job, and you're unemployed, state your reason for leaving in a positive context: "I managed to survive two rounds of corporate downsizing, but the third round was a 20% reduction in the workforce, which included me." Or better yet, focus on how the opportunity you're interviewing for fits your skills and career goals.
If you're employed, focus on what you want in your next job: "After two years, I've made the decision to look for a company that is team-focused, where I can add my experience."
2. Why Do You Want to Work for Us?
When a hiring manager or HR professional asks this question, not only do they want to know why a job candidate wants to work for them, but they also want to know what they know about their company.
This question tests how well you've done your research and how passionate you are about the work they do. Make sure you know the company well and can speak truthfully about why you think you're a great candidate. Go to their website, check out their social media posts and talk to anyone you may know who currently works for the firm.
3. What are Your Long-term Goals?
This is one of the most common questions an interviewer asks and is used to evaluate a potential employee's objective-setting abilities as well as how well the applicant's goals fit with the company's mission.
To successfully answer this question you should not only clearly describe your long-term goals but outline the steps you've already taken to achieve them. Finish with the actions you're planning on taking and describe how the role you're interviewing for can help you achieve those goals.
Contact Management Registry Today
Looking for the perfect position and want to make a great first impression? Management Registry, Inc. is highly experienced in finding roles that fit your skill set perfectly and we'll be happy to help with any interview prep you require. Our proven network and experience can help you find the perfect fit. Contact us today and let's discuss on how we can help you meet your career goals!