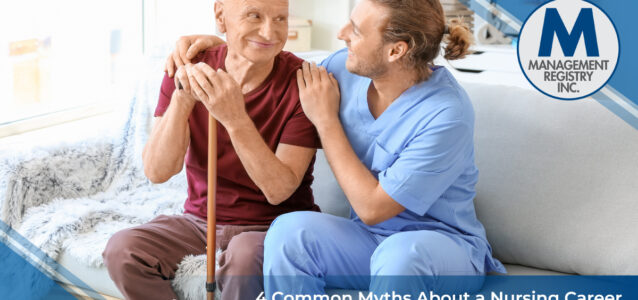 Being a nurse continues to be an excellent career path.
Today nurses are the key to quality medical care and improve the quality of life on a regular basis. Without nurses – whether in the hospital, clinic, ER or private practice – it's unlikely that many of us would get the quality treatment we've come to expect.
For those interested in the field of nursing, there's an ever-growing range of long-term career opportunities available. Yet some misconceptions and stereotypes have cropped up about being a nurse that are simply untrue.
Here are Four Examples of Nursing Myths:
Nursing Is Only for Women
While it's true that many nurses are women (the United States Department of Labor states that 12% of all nurses are male), that number has been steadily increasing. The recent nursing shortage has increased recruiting and occupational retraining efforts to increase the pool of new and employable nurses – and that includes men.
Men employed as professional nurses are highly competent at their jobs – just as their female counterparts are. They have identified job security, professional opportunity, and good salary as reasons for seeking nursing opportunities and have also reported high levels of personal fulfillment and satisfaction.
The Pay Isn't Great
It's simply incorrect that nursing doesn't pay well. According to the Bureau of Labor Statistics, the median annual salary for registered nurses was $77,600 in May of 2021 with the highest 10% earning more than $120,250.
Of course, where you work has a lot to do with salary levels, but nursing continues to offer a career path with strong earning potential.
Travel Nursing Isn't a Viable Career
As the name implies, travel nurses are registered RNs who fill gaps where they're needed – and they often get to choose where they go! Today many hospitals and staffing organizations are beating the bushes for nurses with the flexibility to travel to new locations.
Along with the freedom to travel, these positions can be lucrative – with traveling professionals receiving good pay, full benefits, furnished housing, mileage reimbursement, and sometimes even a rental car. And speaking of pay, while the average annual salary for travel nurses varies, the average pay is $117,490 per year with a starting salary of $78,430. This can rise to $170,680 depending on the locations that are selected and the nurses level of experience.
Nursing Is a Thankless Job With Bad Hours
The idea that nurses simply take your blood pressure or give vaccinations is wrong!
Nursing requires being able to accomplish many complex activities during a shift – from performing difficult, life-saving tasks to dealing with patients. Like most professions, nursing includes some thankless and unpleasant tasks, but this is only a fraction of what goes on.
In terms of hours on the floor, a nurse can work 8 to 10 hours daily within a 40 hour week. Many choose to work 12 hours a day per week then schedule the next 36 hours off. It means getting most of the next week off by working just a few more hours a day.
Contact Management Registry Today
Looking for a career in nursing? Management Registry, Inc. provides PRN, locum, travelers and permanent placement nursing careers, allied, and ancillary staffing solutions for our clients. Our proven network and experience can help you land the perfect role. Contact us today and let's discuss on how we can help!