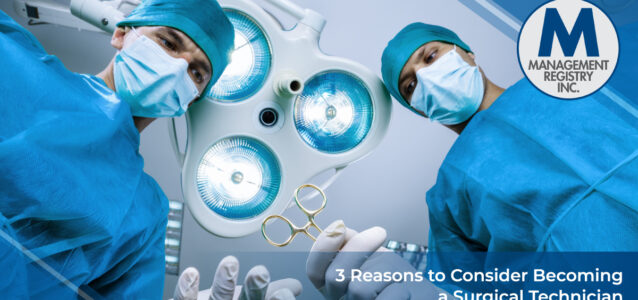 Surgical technologists (also known as operating room technicians or scrub techs) are important members of the operating team.
They work alongside surgeons and nurses in the operating room – making sure patients are ready for surgery, ensuring that every piece of equipment is sterilized and working perfectly, and being ready when the surgical team asks for an instrument.
Everything from prepping the operating room with the necessary tools, to assisting the surgeon with the operation, to taking inventory and overseeing the cleanup of the surgical equipment is facilitated by the surgical technologist.
Most physician techs work in hospitals, but other possible work environments include outpatient centers or the offices of physicians who perform outpatient surgery.
Why you Should Consider Becoming a Surgical Tech
There are many good reasons to take on this rewarding career – here are three of the most recognized ones:
High Demand
According to the Bureau of Labor and Statistics jobs in this field are projected to grow approximately 12% by 2026. The main reason for this is that the population of seniors is expected to continue to swell in the coming years – especially with members of the baby boomer generation getting older. As this population sees an increased need for medical care, healthcare professionals such as surgical techs will be in greater demand – which also includes an increase in career advancement.
The typical surgical tech salary is another bright spot. The BLS reports that the 2021 median annual salary for surgical technologists was $48,350, which is above the average for all occupations.
Less Time to Get Started
Getting into some medical careers – such as becoming a physician – can take eight years or more in medical school on top of getting an undergraduate degree. The good news is that's not the case for surgical techs.
Surgical tech programs vary in length, with most enabling students to graduate within two years. Most employers require a postsecondary certificate or associate degree to work in this position, so in two years' time you could be in the operating room scrubbing in for your first surgery.
The required education is also less expensive – with typical costs running between $5,000-$25,000 for tuition, fees, books, and other supplies.
Room for Advancement
Working as a surgical technician can provide you with many transferrable skills. After gaining on-the-job experience, many surgical techs are able to advance in their medical careers if they choose. For example some surgical technicians can become surgical first assistants. These professionals work directly with the operating surgeon and help manage surgical teams.
The combination of hard and soft skills gained by working with experienced surgeons and nurses can also be beneficial whether you choose to keep working in surgical technology or transitioning to another area of health care.
After working in the field, some surgical techs can choose to continue their education in order to transition to another area of health care such as nursing. Others may choose to become hospital administrators who manage the operations of a health care facility. These advancement opportunities may also come with other benefits, such as a salary increase.
Contact Management Registry, Inc. Today
Ready to advance your career? Management Registry, Inc. has the proven network and experience to help you find the perfect fit. Contact us today and let's get started on finding the right position that reflects your skills.