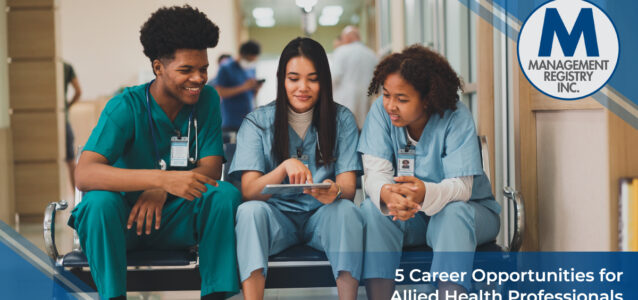 With summer upon us, you may think that now isn't the time to be searching for a job. But the fact it, right now is a great time to be an Allied Healthcare Professional looking for that next great opportunity!
Here's why.
According to the United States Bureau of Labor Statistics, (BLS) the allied health field is an area experiencing rapid growth and change. According to their report, this field is expected to grow by about 18% through 2026. This is much higher than the average employment growth for all occupations of about seven percent.
The top employers of allied health professionals are predicted to be hospitals. But jobs should also be plentiful at skilled nursing facilities and outpatient care centers, such as urgent care clinics.
So if you're an allied health professional interested in furthering your career, here are 5 in-demand career choices to consider:
1. Medical Assistant
Right now medical assistants have one of the most in-demand jobs in allied healthcare. Their duties vary based on their location, employer, specialty, and size of the practice. In general MA jobs may involve direct patient care and treatment, or it can revolve around patient records and health information data management.
Most medical assistant training courses include a clinical internship that also provides practical training in a real work environment. While learning through on-the-job training is possible, most employers prefer candidates with a medical assistant certificate or associate degree. Most medical assistant programs can be completed in just one year.
2.      Physician Assistant
This is another of the fastest growing professions in allied healthcare, and the need for more Physician Assistants is huge. According to the BLS, there's an expected growth rate of 31% for this job title through 2028.
Individuals in this role work alongside doctors in treating, diagnosing, and helping patients.
It's a great fit for anyone that's interested in becoming a doctor but doesn't want to undergo as much of the time commitment.
3.  Health Information Technician
Health data is something that all healthcare professionals house, and there will always be a need to manage it to ensure both its accessibility and security. The role of a Health Information Technician is just that. While most technicians work in hospitals, they're also found in physician practices, nursing homes, home health agencies, mental health facilities, and public health agencies.
Typically, a postsecondary certificate is required to enter this profession, but some employers may require an associate degree.
4.  Speech-Language Pathologist
The role of a Speech-Language Pathologist – also known as speech therapist – is to assess, diagnose, and treat patients with speech, language, social communication, cognitive-communication, and swallowing disorders in children and adults.  According to the BLS, this field is expected to grow much faster than average through 2026, with a growth rate of 18%.
5. Occupational Therapist
Occupational therapists specialize in working with patients across the lifespan who have an illness, injury, or disability, such as a physical, mental or cognitive disorder. OTs assess patients, develop individualized treatment plans, and provide treatment designed to improve their strength, dexterity, and motor skills. and help them maximize performance and functioning through a variety of treatment techniques. The BLS states that this field is expected to grow 17%  from 2020 to 2030.
Contact Our Team Today
Ready to advance your healthcare career? Management Registry, Inc. has the proven network and experience to help you find the perfect fit. Contact us today and let's get started on finding the right position that reflects your skills.