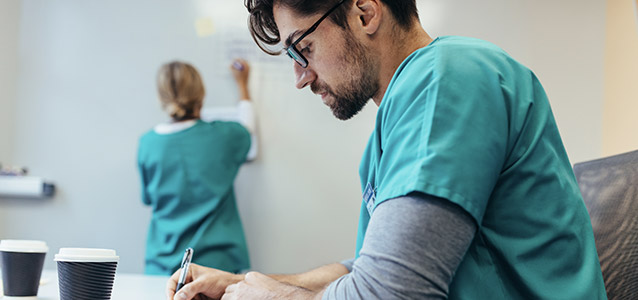 You love being a nurse, but lately, your specialty hasn't been working for you. Whether the hectic schedule is making it hard to enjoy a work-life balance — i.e., you work in the emergency room at your local hospital — or the nature of the job is no longer fulfilling, you've decided to make a change.
While nursing jobs share the same basic foundation — i.e., caring for others — switching into a different specialty is a huge transition. Here's some advice to help you make a sound decision.
5 Tips for Moving Into a Different Nursing Specialty
Think About Where You're Headed
Choosing a new nursing specialty is a very big deal, so think long and hard about what you want from your next chapter. Think about what you don't like about your current specialty, and make sure the new one won't be the same thing in a different setting. This shift will require a lot of work on your part, so you want to make sure you land somewhere that will make you happy.
Conduct Careful Research
Learn as much as possible about the specialty you'd like to transfer into, so you can make an informed decision. Follow nurse influencers in the specialty on social media and read blogs to gain insights from those currently working in the field. It's also wise to cover all the bases by reading industry publications and searching for relevant employment statistics.
Give It a Test Drive
You can't know what it's like to work in another specialty until you've been there. Seek opportunities to shadow nurses in the field, so you can gain firsthand experience. This should give you a strong idea of whether or not it's the right place for you. If you have any doubts whatsoever, keep shadowing until you've made a meaningful decision.
Boost Your Credentials
Different specialties require different certifications, so you may have to seek additional training. This could be as simple as attending a seminar focused on your new field or more intense, such as going back to school for an advanced degree. Either way, it's important to know what you're getting into, before going all in.
Network Your Way Into a New Job
Find the best possible job for you by expanding your network to include professionals from your new nursing specialty. Attend networking events, conferences, and seminars to meet nurses who can teach you more about the specialty and maybe even help you find a new job. Your chances of getting hired significantly improve when you have someone who knows the hiring manager in your corner, so increase the odds by making as many new contacts as possible.
Searching for new healthcare opportunities? Management Registry, Inc. is here to assist, every step of the way! Contact us today to learn more.